Relief for Mid-life Depressions
People with depressive disorders do find relief when they receive the appropriate treatment. Diagnosing the trigerring factors of your depression is the first therapeutic approach a mental-health specialist will do to help you journey into your illness to bring relief.
Understanding male and female's different reactions towards depression can also be enlightening; I will enumerate some of these approaches for you. As we go over the causes of the various depressions - whether mild-to-moderate, major or dysthimia - it will become clear to you why some therapeutic approaches could be most suitable for your recovery than others.
Last but not least, please understand that this information is for educational purpose only. The best person to assist you in your therapeutic approaches remains to be your therapist. As you learn to trust his professional wisdom and experience, you will feel the need to confide with open-mind and honestly - which is the key for bringing relief in this difficult but necessary journey.
Let's now continue our journey as we now look over some of the biological and environmental factors that could trigger your depression with its specific therapeutic approach requirements:
Biological
neurotransmitters
genes
medical issues and medications
Environmental
Stress
Upbringing
seasonal
Biological factors of Depression
Neurotransmitters
1.Neurotransmitters are ``chemicals used to relay, amplify and modulate signals between a neuron (nerve cell) and another cell. `` Any malfunctioning of neurotransmitters could be responsible for signs and symptoms of major depressions. To help you understand this, I will explain how a signal is transmitted between two neurons.(nerve cells)
How does the nerve cells communicate amongst each other?
Let's compare our brain to an administrative corporation with multiple departments. Each department practices their respective functions for the purpose of realizing a common goal: bringing coherence in all facettes of our health – whether physical, psychological, emotional and spiritual. The neurological system is the means of communication that links all these departments together, and through this wiring system the brain sends millions of signals daily.
To help you understand how the brain sends signals to all the muscles of your body, try to picture your nervous system functioning like the electrical wiring of your home or a computer. It all begins with a neuron (nerve cell) to which thousands and thousands of others are all connected like little branches to the tree. (see Wikipedia graphic below)
The nerve cell is composed of 4 parts:
the neuron
the body of the cell
the axon
long stem that ramifies the pre-synaptic nerve to the post-synaptic nerve
dendrites
the axon divides itself into smaller ramifications or little branches for the connection of other cells.
synapses
the space between two nerve cells filled with fluid
The brain sends a signal to the nerve cell (also called pre-synaptic nerve) using electrical impulses. This electrical impulse travels along the wiring of the nerve, scientifically called axon towards the synapse. Neurotransmitters are responsible for carrying the signal message from one neuron to the next.
``Neurotransmitters are packaged into vesicles that cluster between the membrane of the presynaptic side of a synapse, and released into the synaptic cleft, where they bind to receptors located in the membrane on the postsynaptic side of the synapse.``
Between the two nerve cells there's a space called synapse filled with fluid. Neurotransmitters, analogically called floaters are compared to little chemical keys that open little locks on the membrane of the post-synaptic nerve or right nerve. When the two fit together, the lock opens causing the post synaptic nerve to fire electrically and release the neurotransmitter back into the synaptic fluid again. This process is called diffusion. The neurotransmitter ended its job; the presynaptic nerve must get rid of it. (pumping the neurotransmitter back to the presynaptic cell) Either the neurotransmitter will be recycled (changing a chemical) or will be destroyed. The excess of chemical will be saved; if rejected, it will be destroyed and eliminated through the blood stream where it will make its way towards the kidneys. This process is necessary to avoid message confusion. Here are a few examples of neurotransmitters and their functions:
The serotonin regulates mood, sleep/wake cycle and body temperature
The acetylcholine junction between neurons (nerve cells) and motor nerves.(body muscles)
Dopamine stimulates pleasure.
According to researchers and specialists in this field of study an increase or decrease of neurotransmitters can be a factor in causing depression in some people and not for others. Mood instability is supposedly the consequence of insufficient form of neurotransmitter called serotonin. Individual prognostic is necessary as for no two people will have the same reactions.
Genes
Depression clearly runs in families. In my case, depression is strong on my father's side. My grand-mother, my father's youngest sister and my father all add tendency to depression. My aunt is diagnosed with bi-polar depression and so is my sister. I experience depression in high-stressing circumstances as well as anxiety. A family, such as mine and many others are two to four times more susceptible to depression.
According to the authors of The Peace of Mind Prescription
``identical twins can have a percentage rate of depression as high as 35% compared to non-identical twins.``
Plenty of research have been done to possibility depict types of genes regulation of activity of neurotransmitters. In the case of bi-polar depression, some have found abnormalities in the number of neurons, in hormones or certain parts of the brain: hippocampus, amygdalia…
Medical health issues and medication
PMDD (Premenstrual Dysphoric Disorder)
Severe hormone fluctuations affect moods before, during and after menstruation or pregnancy. When severe, a woman will suffer of `` marked mood swings, depressed mood, irritability, and anxiety, which may be accompanied with physical symptoms such as appetite changes, lethargy, and sleep disturbances. The symptoms of PMDD closely resemble those of major depressive disorder or dysthymia. The key diagnostic difference is that symptoms are cyclic rather than constant. ``
Other medical conditions can be triggers; the malfunction of thyroid glands influences mood.
Some medication for pain relief or other than mental-related symptoms can trigger depression, which can be a challenging task for physicians and patients to pinpoint.
Any physical chronic illnesses such as diabetes, heart illnesses, or terminal illnesses such as cancer could also trigger depression.
Environmental
STRESS
Stress is one of the most popular factors of depression. ``Stressors drain you, wear you out and impact you. They put a demand on you mentally, emotionally and physically.`` Stress can come from our social environment as much as within us. Our interpretations of life, of ourself as a person, our ability in accepting ourself for whom we are in our limits are but a few stressors that can contribute to your depression and make your present living situation painful. Whether you encounter matrimonial issues, health issues, job loss or difficulty at work, or water dripping stressors that accumulate, they could be responsible for ``hormonal changes in your body and your brain.`` These hormones increasing could impair the growth of new dendrites and synapses. This explains the tunnel vision we feel during the phase of depression.
`` …the brain and body can cope well with short-term stress, provided that periods of rest or relaxation follow. But the unrelenting stress typical of many twenty-first-century jobs and lifestyles can degrade physical and mental health and may trigger depression in those with an inborn vulnerability…``
UPBRINGING
Traumatic childhood experiences are strongly linked to depression. Situations such as parental neglect, physical, mental and sexual abuse, loss of a parent before adolescence are triggers of depression in adulthood because of the seriousness of the effects this negative behaviour had on you as a child and a person. You become hypersensitive to any similar situation and this is carried over in adulthood. Your temperament could even been marked as a result of these traumatisms. Lack of intimate bonding as a child makes you feel unlovable and worthless.
SEASONAL AFFECTIVE DISORDER (SAD)
Last but not least, seasonal changes may have an impact on your mental health. The declining of light level in fall and in winter make some people feel depressed. Light therapy is the therapeutic approach to help these persons.
THERAPEUTIC APPROACHES TO DEPRESSION
There are three general therapeutic approaches to depression and based on the factors triggering your depression one or more of these approaches may be recommended by your mental health specialist.
Cognitive therapy (psychotherapy)
Cognitive behavioural therapy and interpersonal therapy are two different talking approaches available for persons ill with depression.
``Through reflection, introspection and talking the person learns to accept, understand and integrate traumatic events. `` Talking therapy helps to reduce anxiety and depression's physical and mental symptoms. This approach is most helpful as a support for all factor-related depression, particularly for environmentally caused depressions such as stress. Even in the case of biologically factored depression, cognitive therapy could be of positive support to help the person in depression journey towards acknowledgement of illness – particularly in cases where neurotransmitters are an issue. Through cognitive therapy the client learns to relax and calm thoughts using biofeedback and neurofeedback.
Medication
Medications such as antidepressants and antipsychotics can be used in cases of major depressions to regulate moods. ``These medications don't cure depression like insulin doesn't cure diabetes but helps the person with depression to make better life changes and choices.``
The length of treatment varies based on the severity of depression and the reactions of the person to the medication. On medication therapy it is important to follow mental health specialist guidelines in regards to the procedure for termination or change of medication. Some of those medications can also have side effects that you must seriously consider with your physician.
Electroconvulsive Therapy (ECT)
For persons with major depression that cannot use drug therapy for health reasons ECT or shock therapy can be of assistance and effects are felt within days. The authors of The Peace of Mind Prescription describe electroconvulsive therapy as follow, and I quote:
`` Modern ECT is a controlled, painless, brief, and highly effective treatment for both depression and bipolar disorder. Unlike antidepressant and anti-mania medications, the effects of ECT are usually felt within a day or two. Because ECT does not involve a drug, it is particularly appropriate for people who cannot take an antidepressant due to adverse reactions with other medications or because of a desire not to expose a developing fetus. The ECT Procedure is conducted under general anesthesia and with muscle relaxants to minimize overt convulsions. A tightly controlled series of mild electric currents is delivered to the brain via electrodes are placed on both sides of the head."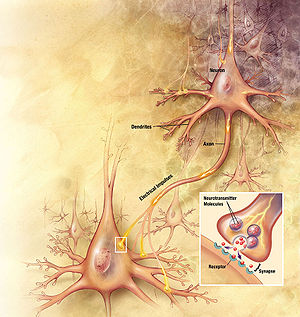 Graphic illustrating the function of a neuron
http://en.wikipedia.org/wiki/neurone#overview
``A signal propagating down an axon to the cell body and dendrites of next cell``
Conclusion
An important message to supportive members
As we reach the conclusion of our encounter on therapies for mid-life depressions, some guidelines may be beneficial for assistants or supportive family members of friends.
Men's approach to depression differs from women.
Here are some examples of men's attitudes in reference to their depression in opposition to women's approaches.
Men will feel others are to blame; they feel angry, irritated, ego-inflated in opposition to women who blames themselves, feel sad, apathetic and worthless not to mention anxious and scared.
Men feel suspiciousand guarded and creates conflicts,in opposition to women whom avoids the conflicts at all cost and always tries to be nice.
Men demands respect from others, in opposition to women who withdraws feeling hurt and has trouble with self-respect.
Men feels restless and agitated, sleeps too little and needs to control at all cost, in opposition to women who feels they are born to fail, are slowed-down and nervous with chronic procrastination and sleeps too much;
Men are terrified to talk about weaknesses and doubts;they have this strong fear of failure in opposition to women who find it easy to talk about weaknesses and doubts, have strong fears of success and need to blend-in to feel safe;
Men uses alcohol, TV, sports and sex to self-medicate in opposition to women who believes their problems could be resolved if they could be a better spouse, co-worker, parent or friend.
Finally, men believe their problems with be solved only if their spouse would treat them better, in opposition to women who constantly wonder if they are loveable or being loved enough.
---
Sources:
http://upliftprogram.com/tips_deprelate.html
www.assessment.com60
13 signs of Burnout and How to Help You Avoid it by Henry Neils.
In his article the author describes sleeplessness and depression to be one of the thirteen signs of burnout and will assign tips to caregivers concerned about their love-ones in depression.
www.creatingoptimism.com -
A proven 7-step program for overcoming depression from his book Creating Optimism by Dr Bob Murray, Ph.D, and Alicia Fortinberry, M.S. Psychotherapist and writer
Peace of Mind Prescription -
An Authoritative Guide to Finding the Most Effective Treatment for Anxiety and Depression by Dennis S. Charney, M.D.,Charles B. Nemeroff, M.D., Ph.D, with stephen Braun
Feeling Good,
The New Mood Therapy by Dr.David D. Burns,M.D and Dr Aaron T. Beck, M.D.
Real Life -
Preparing for the 7 Most Challenging Days of Your Life by Dr. Phillip McGraw, Ph.D., A DIvision ofSimon & Shuster Inc. 1230, Avenue of the Americas, New York, NY 10020
---
LINKS:
http://www.upliftprogram.com/tips_deprelate.html
Up-lifting tips for partners and family members having to deal with depression in their family life.
Learning about bi-polar disorder, its signs and symptoms and education about instigating relief to your illness.
---